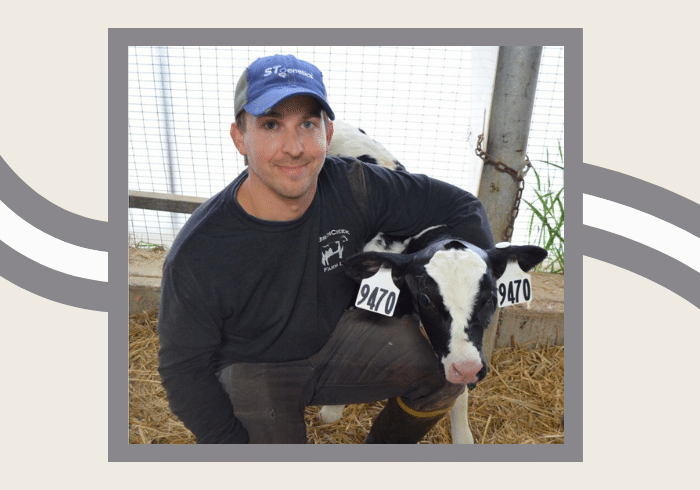 "To those out there currently serving, I would just say thanks for serving, thanks for doing your part, thanks for keeping us safe. If farming is something that interests you, look into it once you get out." ~ Chris Gingerich
Chris Gingerich spent four years serving this country in the Marine Corps at Camp Lejeune in North Carolina. The skills learned as a Marine serve him well now in his new career, says Chris. The 33-year-old is the head herdsman at Birch Creek Dairy Farm in Woodville, N.Y. The farm milks around 2,500 cows, helping supply the local community with nutritious milk and dairy products.
As a herdsman, Chris is responsible for the cows in addition to his team of 30 employees. His goal is to make sure the team stays focused on providing the highest standards of care to all of the cows on the farm day to day. He does this by overseeing the milking process, monitoring cows' health, and ensuring that the cows have fresh food, water and clean bedding.
In this Q & A, Chris Gingerich shares about his military service and life on a dairy farm.
What made you join the military?
Chris: I grew up on a farm and then went to college for a year and didn't really like it. I decided to get out of here for a little while and try something different. I always said if I was going go into the military, I'd do the Marine Corps. I always thought that was the best branch, you didn't hear of as many marines in this area — it's less common, so I thought it was a little more special.
What is it like working on the farm compared to being in the military?
Chris: There are similarities, especially with what I do now. We have over 35  of employees, so managing people and setting up protocols – things like that are similar to how we had in the Marines. In the Marines, everything has a protocol as far as getting things done. It's the same here on the farm— we have set processes for everything, from preparing the cows for milking, to tracking what and how much they are eating, and training our employees to ensure they are doing their jobs to keep humans and animals safe.
How did being in the military help set you up to being successful on the farm?
Chris: With the job I do now, being in-charge of employees, the military did help me with leadership — showing me the leadership roles and managing employees, things like that. Another similarity is that both jobs are very physically demanding, only in different ways.
Physical activity is part of a dairy farmer's job — farmers have no trouble reaching the 10,000 steps health organizations recommend for daily activity. Some go above and beyond, like Chris doing pull-ups in the milking parlor.
What would you say to those in the military thinking of their next transition – is farming a good place for them?
Chris: I think it is. I mean, it's not for everybody just like the military is not for everybody. But there's lots of opportunities out there on farms. Anything, actually working on the farm or something else to do with farming — mechanics repair — things like that, there's many opportunities.